The old Nat Bailey
I used to go to that stadium to watch baseball in my early years. The Vancouver Capilanos. (Pronounced capiLINOs for you non-Vancouverites) We hung out in the bleachers and smoked and made a nuisance of ourselves and looked at the beautiful player's wives in the good seats. I still have original black and white baseball cards of the era, 1951. Forgotten players like Bob Duretto, Pete Hernandez, Jesse Williams, a black man with Jackie Robinson dreams? Vancouver born Bill Whyte. My Johnny Ritchie card is signed by Mrs. Johnny Ritchie, how about that!
Nat Bailey is a heritage ballpark. It has a history even though we've had no Major League baseball. Not as great as the original Wrigley Field, Yankee Stadium, Ebbets Field or Comiskey Park, but nonetheless Vancouver's baseball past is recorded here.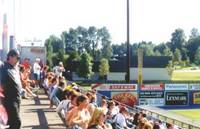 adults playing hooky
(And young players need to start somewhere. Canada's Jason Bay is the National League's 'Rookie of the Year' 2004, from Trail, BC!)
Now they want to tear it down for the Olympic Games and build a curling rink! Like how much room do they need there anyway? There are acres just across the street! Why not just build the Olympic rink next to the EXISTING curling rink at Hillcrest Park and have a complete curling complex AFTER the games? Would we destroy this baseball history for two weeks of curling? For tents for curling 'athletes"? They are starting the spin now, even though they allowed the lease for another year, of telling us it is run down. I say fix it up then!
It isn't just about baseball, it is something of our past, something to remind us of our innocence and yes, honesty. When times were, 'different'. When 'play ball' meant play fair. Sappy sentimentality? Possibly, but if we let Nat Bailey go we lose something from our lives just as surely as a beloved relative. It is one of those subliminal possessions that, although we might not go there too often, we want it there just in case we do. Don't let Nat Bailey Stadium die. It is our 'little town' legacy and so important for our big town mentality.
And don't build anything southwest of the stadium either, it is the best view in baseball parks!
Published in the Westender newspaper

Bob Snyder baseball card. June 15, 1951, on opening night of
Capilano Stadium
, Bob Snyder won the first game of the Vancouver Capilanos against the Salem Senators 10 - 3 after Snyder allowed only 6 hits.
Snyder card