Remember taking the ferry to the Island?
Remember having a relaxed breakfast or dinner on board? Remember the prices! Look. Grilled
BC
salmon steak for $3.00 and you didn't have to ask if it was that toxic fish farm stuff either. A burger deluxe was 80 cents. Top sirlion steak was
British Columbia
beef too. Remember those days when we were all so proud that
OUR
BC Ferries had more ships than the Canadian Navy?
Whatever happened to that BC pride?
Now you've made me cry ...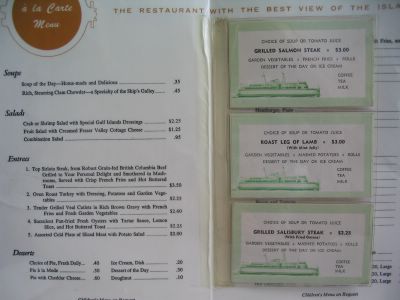 Dinner anyone?
20 ships! In those halcyon days when we were
building
British Columbia.
[reposted courtesy of http://rescuemystuff.blogspot.com]